Facilitating top leadership commitment.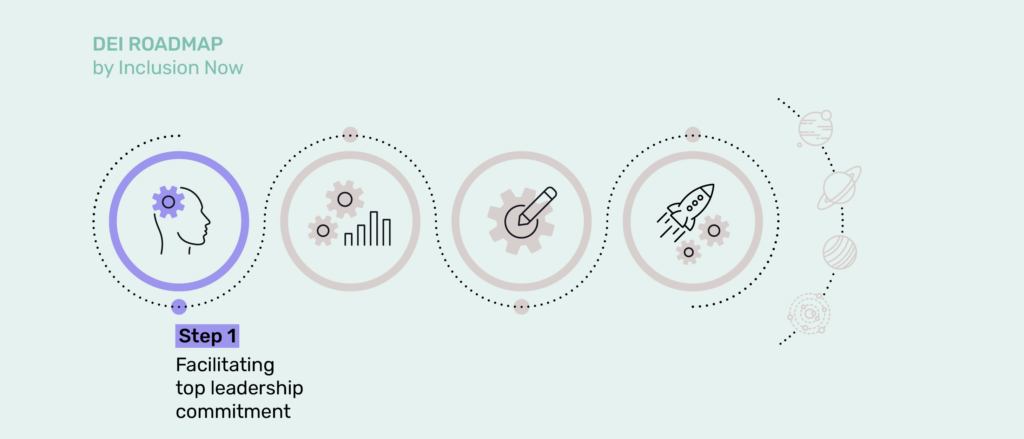 Before you start any considerable change process in your organization, you should know where your leadership stands on the topic and how likely they are to support the changes you want to implement.
Facilitating more diversity, creating equity in policies and practices, and building an inclusive culture requires many simultaneous change processes. Leadership commitment is a crucial success factor. That means getting the most senior level of your organization on board from the start. Later in the process, middle and lower management and people leaders will be essential in embedding the changes further.

Pay attention to language and vocabulary throughout your Diversity, Equity, and Inclusion journey. Many terms may be unfamiliar. Do not hesitate to discuss the meaning of words together with your team. Decide on a common language to talk about DEI, sculpt this journey, and make sure it suits your organization. Find inspiration in the glossary.
REFLECT.
Leadership can mean a few things, depending on how your organization is structured. Who is at the most senior level in your organization?
C-level or C-suite (CEO, COO, CFO, CIO, CHRO)
Board of directors
Top management
Senior executives
…
Have you heard top leadership talk about DEI before? Have you had conversations with them about DEI in your organization? Could any of them, preferably the CEO, be willing to act as an executive sponsor to the DEI team?

Start the conversation! Are you not at the right level to directly contact top leadership? Look for allies at higher levels of the organization to help you reach out and investigate the top leadership's commitment.
INVESTIGATE.
Once you are in contact with the most senior level of your organization, it is time to figure out where they stand on DEI. The six possible stages are:
No awareness: Top leadership has not been confronted or notified of the importance of DEI work in organizations and has no personal commitment to the topic.
Awareness: Top leadership realizes that DEI is becoming an increasingly current topic in business and that it could be beneficial to support it. The focus is mainly on compliance, specifically regarding anti-discrimination and equal opportunities, or DEI, as part of the organization's CSR efforts.
Buy-in: Top leadership recognizes that DEI can contribute to better business outcomes and that it's the organization's responsibility to act. Top leadership puts HR or CSR in the driver's seat but does not take on an active role themselves.
Meaningful engagement: Top leadership openly acknowledges the need to increase diversity and equity and to work on an inclusive culture. It states its commitment to DEI and what the organization wants to achieve. It is willing to invest knowledge, skills, and material support to successfully implement and execute the company's strategic DEI goals.
Role-modeling: Besides acknowledging that DEI is vital for business, top leadership considers inclusive leadership a norm to live up to. It continuously role-models inclusive behaviors towards colleagues, clients, and external partners.
Accountability: To embed DEI values in the organization's DNA, top leadership makes DEI a critical business area and sets specific DEI goals for business departments and levels. It is willing to be held accountable for progress.
Accompanied by meaningful engagement and active role-modeling, accountability is the ultimate expression of having top leadership on board.

Views on DEI can be different for each member of top leadership. Your leadership can be generally supportive. But this does not mean that an individual leader is willing to support DEI change actively.
Besides getting a general statement from the top leadership team on how it feels about DEI, try to dig a little deeper and discover who is truly an advocate. Who will help accelerate, and who might hold back progress?
MAKE IT CONCRETE.
Having top leadership on board should always translate into concrete commitments and actions. That means they are willing to provide you or the DEI team with three necessary means to accommodate change:
A mandate to measure the organization's "as is" situation and DEI readiness, create a long-term DEI strategy and action plan, and allocate budget towards specific actions.
Resources

By appointing a Chief Diversity Officer, DEI manager, or dedicated DEI team.
By assigning a budget to voluntary DEI ambassadors in the organization to hire external experts and partners to help with a scan, strategy, and action roll-out.
By doing both.

Alignment and validation of DEI Strategy and action plan.

Top leadership time is scarce and valuable. Suppose leaders want to walk the talk. In that case, they should free up time to discuss DEI as a business priority, regularly align the DEI strategy with the overall business strategy and validate the DEI action plan.

Getting executive sponsors from your top leadership is essential if you want your DEI work to have an impact. First, get the CEO on board since they typically have the most influence on their team.
You want to integrate DEI into all critical business areas and your organization's core. Do not be satisfied with a support function top leader as executive sponsor. They can have the influence you are looking for. Still, since they are not responsible for the business departments that drive the organization's revenue, there is little guarantee that power will hold up in critical situations.
Top leadership team members can quickly rotate. If possible, try to convince more than one team member to engage as an executive sponsor.
Reading about top leadership commitment is one thing. Establishing or facilitating it is a whole other story. You can find examples and guidelines in step 4, "Actions."
DEI facts and figures in tech.
Become a DEI expert.
This is a collection of articles that allows you to take a deep dive.
Getting Serious About Diversity: Enough Already with the Business Case
Leaders may mean well when they tout the economic payoffs of hiring more women and people of color, but there is no research support for the notion that diversifying the workforce automatically improves a company's performance. This article critiques the popular rhetoric about
diversity
and revisits…
hbr.org
Accelerating Inclusive Behaviors And Leadership. | Inclusion Now | Meise
Inclusion
Now is a consulting agency helping companies foster more inclusive cultures and behaviors. From coaching to consulting to eLearning, we got you covered.
www.inclusionnow.eu